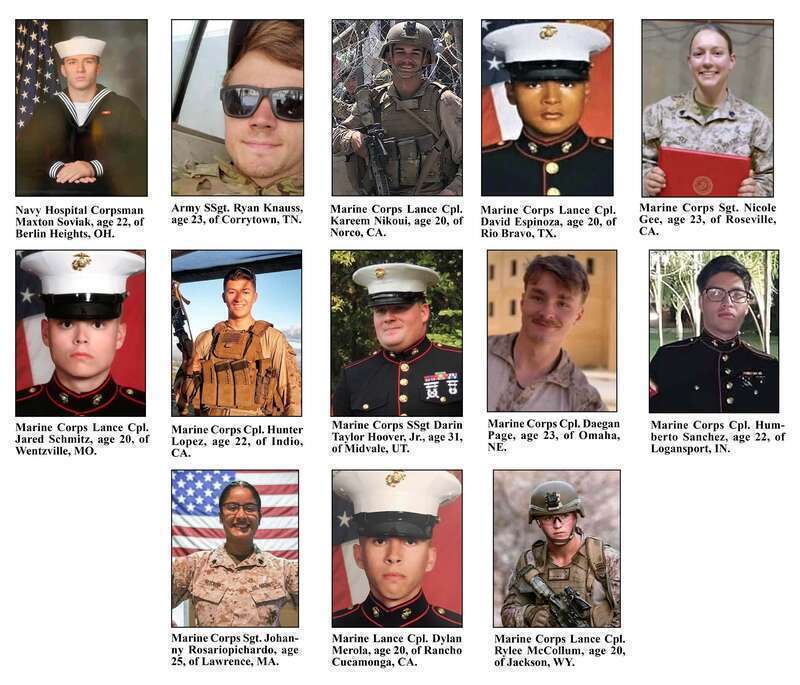 Jayna Smith
[email protected]
Thirteen U.S. soldiers were among the near-200 killed outside the gates ofHamid Karzai International Airport in Kabul on Thursday, Aug. 27 as evacuations out of Afghanistan continue.  
Of those service members, 11 were Marines, one a Navy soldier, and one an Army soldier.  
Two blasts, followed by gunfire, shook the area as U.S. forces continued helping to evacuate Afghans desperate to flee Taliban rule.  
Before Thursday, 2,448 members of the military had died in the 20 years of the war in the country, according to military.com.  
Along with the 13 service members killed Thursday, 20 other service members were wounded in what has been described as a "complex" attack.
The group ISIS-K, an Islamic State affiliate and enemy of the Taliban, is claiming responsibility for the bombings.  President Biden has ordered the Pentagon to plan how to strike ISIS-K.
"We will not forgive.  We will not forget.  We will hunt you down and make you pay," he said on Thursday during televised comments from the White House.
Congressman Jared Golden (ME-02), a Marine veteran who served in combat in Afghanistan and Iraq, was quick to release a statement Thursday evening.  
"The United States cannot let this attack on our troops go unanswered. We must respond with strength to any attack on American citizens or servicemembers. The president must use his authority to swiftly conduct offensive operations against ISIS-K and other threats in order to disable their ability to put our servicemembers and the evacuation mission at risk," the Congressman's statement read.